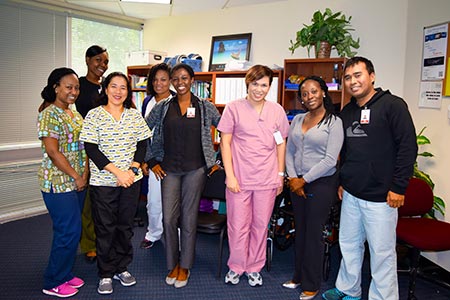 Joining Avant Healthcare Professionals is the first step to beginning your career as a registered nurse, physical or occupational therapist in the U.S.A.
Each day we welcome experienced healthcare professionals to our recruitment program from all over the world. In fact, Avant has the most diverse recruitment pipeline representing over 70 countries.
Please review the following requirements to see if you qualify for our program.
Program Requirements
Hold a current registered nursing, physical therapy or occupational therapy license within your country of residence (subject to verification).
For nurses:

Have at least one year of current and consistent post graduate experience at a tertiary level or large secondary level hospital with at least 80 beds in an acute care inpatient setting.
Be a graduate of a registered nurse training program from an accredited school of nursing which covered medical, surgical, obstetrics, pediatrics and psychiatry - both clinical and theory. A BSN is preferred but not required.

Meet the requirements as laid down by U.S. immigration for permanent residency applicants.
Meet English proficiency in accordance with Section 343 of the Illegal Immigration Reform and Immigration Responsibility Act of 1996 (VisaScreen).
Be very interested in pursuing both lifestyle opportunities and career development in the U.S.
Be flexible on assignment location.
Uphold and embody Avant's Core Values.