The Avant Program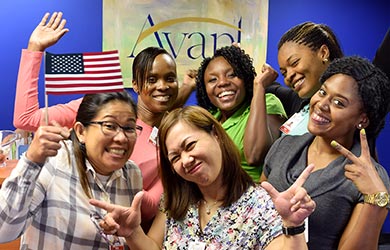 Since 2003, we have made thousands of dreams come true for international healthcare professionals. From our prestigious support programs to our highly experienced teams, no one knows international staffing like we do.
We make the licensure and immigration process easy for you. Our exceptional clinical and cultural support is designed to help you quickly assimilate, professionally and personally, to your new work and home environment.
When you join the Avant Healthcare Professionals program, you have entire teams of experts who are dedicated to your success in the USA!
---
Nursing Education
We offer an in-depth, comprehensive program that includes NCLEX-RN® preparation, live skills webinars, online learning modules, personalized coaching support, and more.
---
Immigration and Licensure
Our experienced team of specialists will guide you through U.S. licensure and visa processes, which can be confusing at best. We take care of everything, so you do not have to worry.
---
Transitions Program
Our Cultural and Clinical Transitions Programs cover every aspect of professional, social and cultural adjustment for starting your new life and career in the U.S.A.
---
Career Opportunities
We have a diverse client base throughout the United States with many exciting placement opportunities available to you in a variety of healthcare settings.
---
Benefits
Our healthcare professionals have access to a wide range of benefits including Green Card sponsorship, competitive salary and benefits package, and more!
---
Ongoing Support
We offer personalized clinical and human resources support throughout the length of your assignment agreement. We are here to guide you!