Dream. Become. Inspire. Meet Cigal, RN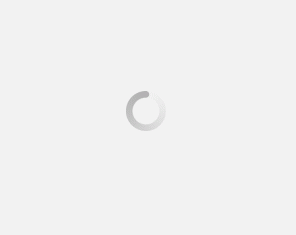 August 23, 2022
Originally from Nigeria, Cigal is a Registered Nurse who moved to the United States in 2019. Cigal shares how her life has improved academically, professionally, and financially after becoming a USRN with Avant Healthcare Professionals. Today, Cigal is living her American Dream in New Hampshire and has converted to direct staff with one of Avant Healthcare Professionals' client facilities. Below, Cigal shares her story and her advice for other international RNs on the journey to becoming a USRN.
My Journey to Becoming a USRN
I was happy back in my home country.
I am the youngest and only daughter of 6 who lived by the motto, "All for one and one for all." I belong to a large extended family and have fantastic friends who have been my pillar in life.
I have worked as a Registered Nurse in the pediatric hematology-oncology unit for the last three years. I am a certified midwife, and for most of my career, I have worked with the mother and baby population and the pediatric emergency population.
I also had a volunteering position that reached out to the people at the grassroots level providing healthcare and referrals at no cost.
My dream was to be a lawyer, but my faith redirected me to pursue Nursing. I come from a Christian family who believes in choosing a career based on divine guidance, not merely personal desires. I left law school for nursing because I had a calling to serve humanity, to touch lives wherever I find myself. I faced ridicule and mockery for choosing Nursing over Law; my friends felt I was too bright for a profession without respect or financial reward. My family questioned my decision, but I persisted and never regretted the decision. It may not have been financially rewarding, but the smiles on my patient's faces when I dance for them, sing to the babies/ children on the unit, or win the battle over my patient's life through diligent, and efficient care meant more to me than anything.
The Nursing practice back home was more like caring for my family. The African culture instills a sense of community and family; when I watch after a patient, I see my family and friends. We may not have had as much technology as the U.S., but we did our best with what we had and achieved excellent results. It was not financially rewarding, but it was fulfilling, nonetheless.
My decision to become a USRN stems from my desire to grow even more academically and professionally. I worked in the four geopolitical zones of my country, learned the major languages during my work around the country, am multilingual and speak five languages, schooled in a French-speaking neighboring country, and wanted more challenge. I thrive on challenges and enjoy meeting new people and learning about new cultures.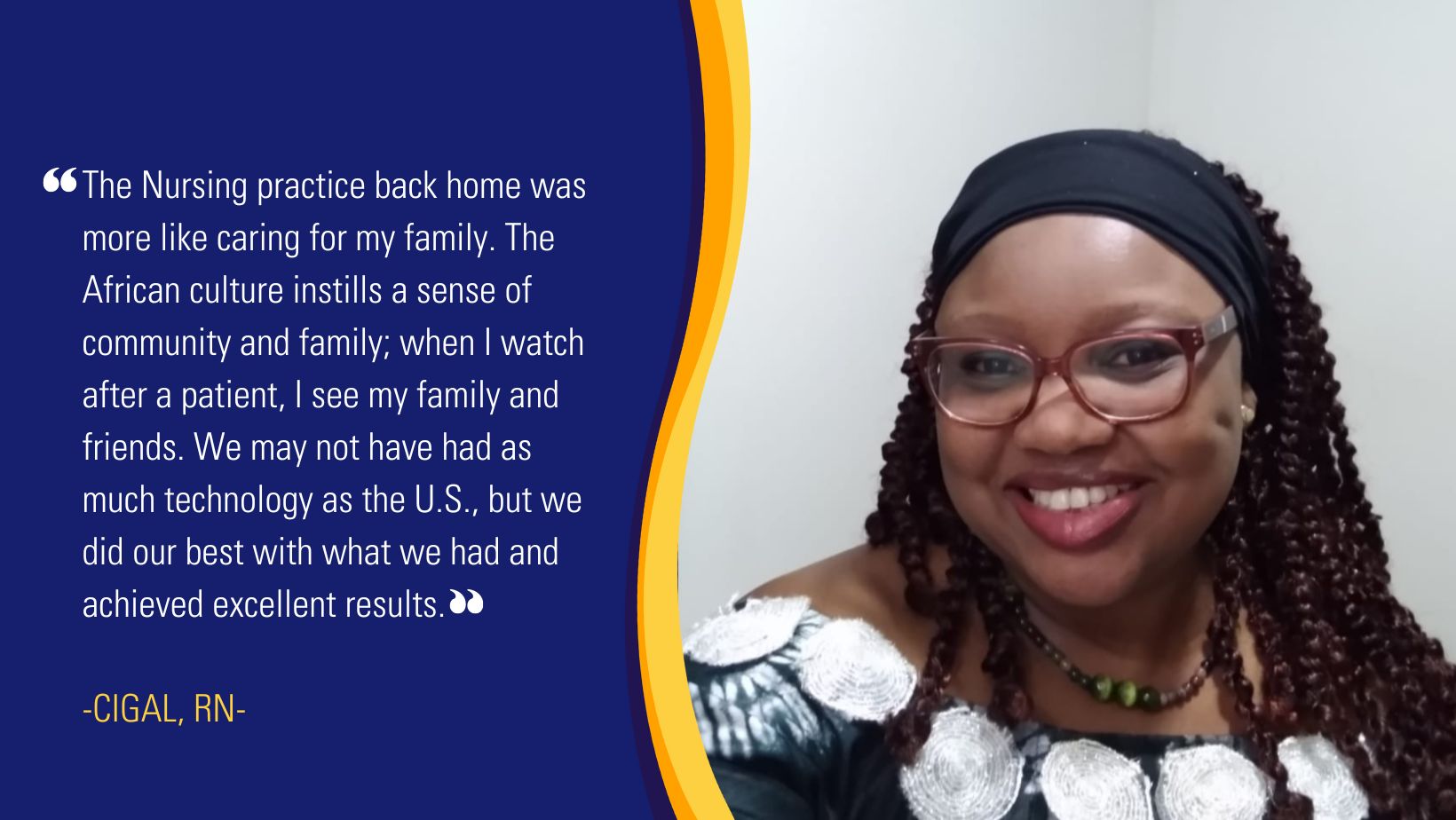 My USRN Process
I needed a guide for my American Dream because I never left Africa. I had no idea how to become a USRN, but God brought me a friend, Chuka, who introduced me to Avant Healthcare Professionals and other agencies. I researched and compared the agencies and chose Avant because I saw how supportive and thorough, they were with their nurses. I felt that that was what I needed because I had no family or friends in the U.S. I needed an agency to look out for me and treat me like a family.
My life changed for the better when I started working in the U.S. I worked in the Neuro unit when I was on contract with Avant Healthcare Professionals, and currently, I work in the NICU. They are the best teams one can ever wish for. I have become a better nurse, daughter, friend, and family member. I've improved my skills before coming to the U.S. and improved academically, professionally, and financially.
Out of curiosity about the American education system, I returned to school and got another BSN. I also worked with the diversity and inclusion office to support other immigrant nurses coming to the hospital and community. Even my spiritual life has grown because I found a church family here. I was assigned to a facility in New Hampshire. Because I've had the opportunity to work with incredible nurses and leaders who expressed interest in supporting my growth, I accepted their offer to become a permanent staff member at my facility after my contract with Avant ended.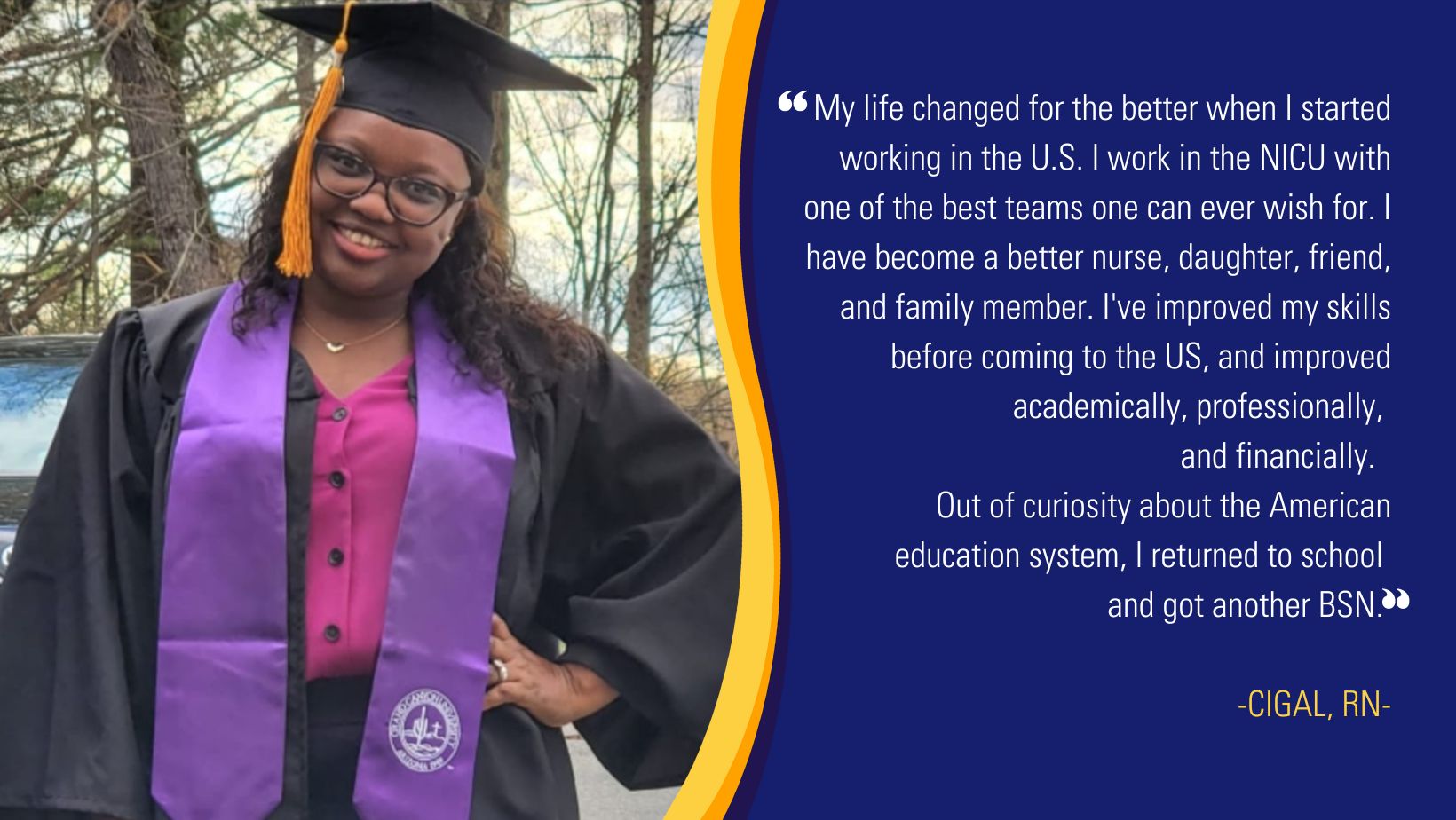 My Advice for Aspiring USRNs
To my fellow nurses, I encourage you to look forward to touching lives every day. Fight for the life of every sick patient entrusted to you, and even when death is inevitable, help them to transition with comfort and dignity. Trust yourself to do what is correct at all times. Practice self-care and remember to bloom wherever you are planted.
And if you are looking to become a USRN and searching for a partner agency, look out for one that will listen to you, watch out for you and treat you like family. A supportive agency will prepare and equip you for success. The transition into the American culture and work setting is not a walk in the park, but with a diligent and supportive team, you will not feel lost, unequipped, or incapable.
Avant Healthcare Professionals is the premier recruiting and staffing specialist for internationally educated healthcare professionals. When you join the Avant Healthcare Professionals program, you have entire teams of experts dedicated to your success in the USA! Take the first step toward your new life and a new career. Apply today to find out if you qualify to be part of this exclusive program. You could be working in the U.S. in as little as 12 months!
---
Subscribe