Dream. Become. Inspire. Meet Smitha, RN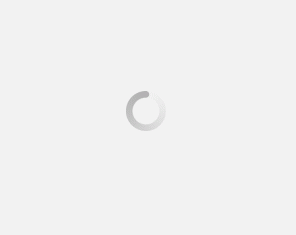 August 26, 2021
Meet Smitha, a Registered Nurse with Avant Healthcare Professionals, who is now living her American Dream after waiting for 15 years due to visa retrogression. Below, Smitha shares her journey of becoming a USRN and encouragement for Registered Nurses in the process.
My Journey to Becoming a USRN
My name is Smitha, and it means "smile". When people talk to me, they say that I am always smiling. I became a nurse because of my cousin's sister, who is a nurse. She is my inspiration. She used to tell me stories about the nursing field and the experiences she had every day. She told me nursing is the most compassionate profession that can help many people. I was aware there are a lot of opportunities for me to explore, and I can even continue with higher education.
I initially took my CGFNS examination in 2005 and applied to one of the nurse recruitment agencies in the Middle East. It seemed to be a smooth process. I got my I-140 and was approved in 2006. My priority date was October 2006 and I already made my plans. I got married because I thought my family would come with me to the U.S., but suddenly retrogression happened, which shocked me! I feared I would not be able to come to the U.S. and achieve my dream.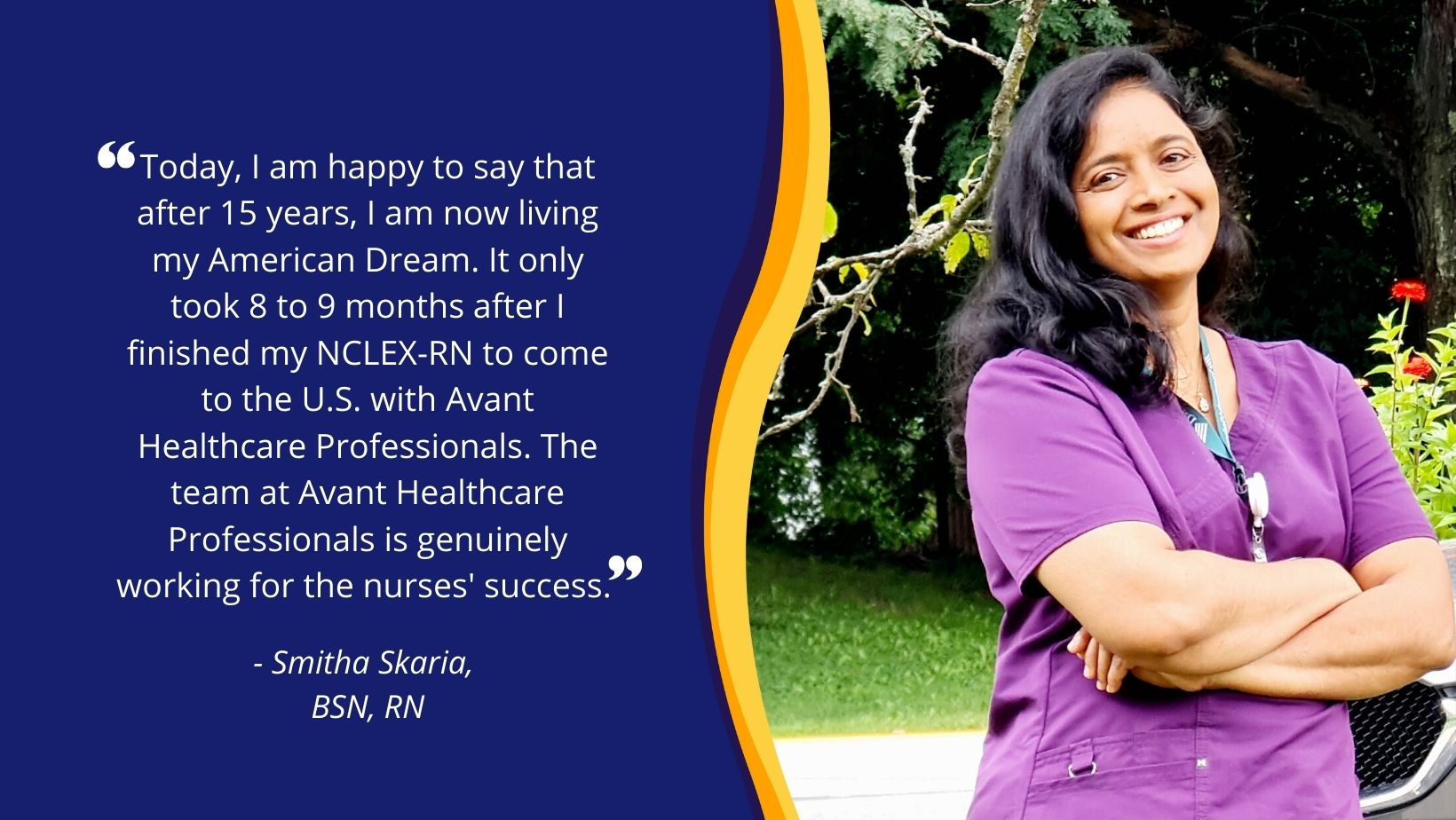 My USRN Process
I had forgotten my American Dream. I settled with the idea that I would be a Qatar nurse. In 2018, I realized that the United States was opened for Indian citizens, and the priority date was 2006. I was so happy.
My husband searched all the websites because I needed help with the NCLEX-RN exam. We came to know that 99% of the nurses were saying, "Go for Avant Healthcare Professionals." We searched more and realized that Avant Healthcare Professionals has a systematic NCLEX-RN review program.
Today, I am happy to say that after 15 years, I am now living my American Dream. It only took 8 to 9 months after I finished my NCLEX-RN to come to the U.S. with Avant Healthcare Professionals. The team at Avant Healthcare Professionals is genuinely working for the nurses' success.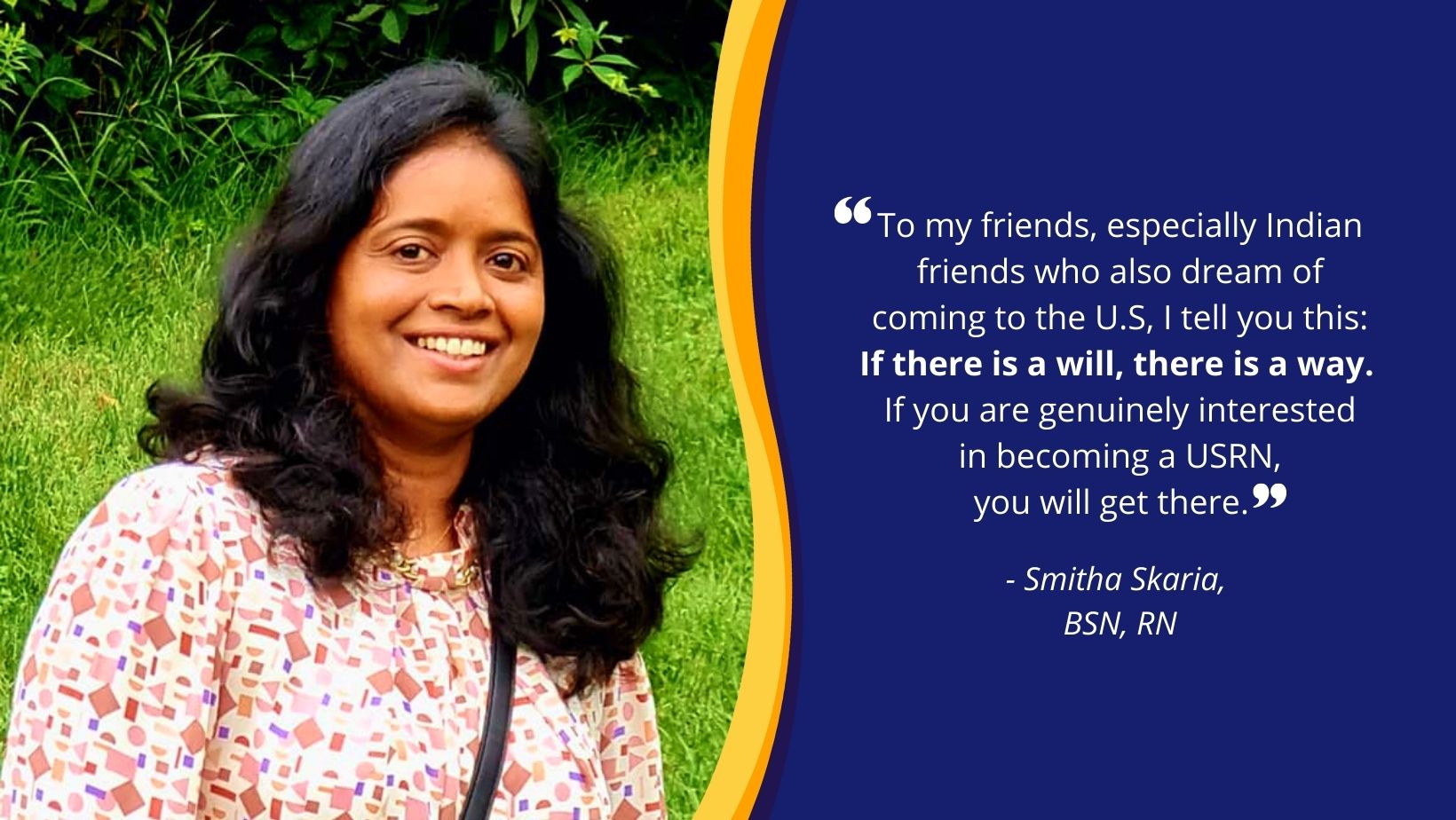 My Advice for Aspiring USRNs
To my friends, especially Indian friends who also dream of coming to the U.S, I tell you this: If there is a will, there is a way. You should not give up. Sometimes, there are bad days, but tomorrow is always waiting. God knows your struggles, and how difficult it is to pass all the exams. He will not leave you alone. If you are genuinely interested in becoming a USRN, you will get there. One of the things that Avant Healthcare Professionals taught me is to look in the mirror and say to myself, "I am a USRN."
Avant Healthcare Professionals is the premier recruiting and staffing specialist for internationally educated healthcare professionals. When you join the Avant Healthcare Professionals program, you have entire teams of experts dedicated to your success in the USA! Take the first step toward your new life and a new career. Apply today to find out if you qualify to be part of this exclusive program. You could be working in the U.S. in as little as 12 months!
---
Subscribe