A CFO's Perspective: Helping Your Clinical Leadership Manage and Control Nurse Staffing Costs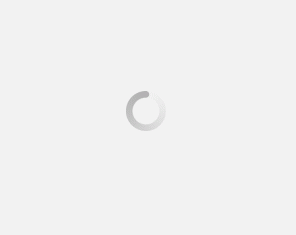 January 17, 2017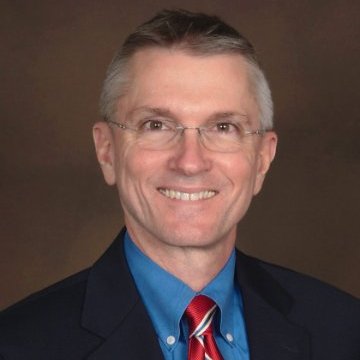 Spencer D. Lloyd, CFO
The U.S. healthcare industry was already in a state of transition before the 2016 presidential election. No one knows what the next four years will bring as we enter the "post-Obamacare" era, but most expect the current nurse shortage to continue to worsen. This would suggest that nurse compensation rates will keep increasing, at least for the foreseeable future.
In this environment, it is critical for CFOs and other financial leaders to take an active role in developing effective nurse staffing strategies for their organizations. Nurse staffing is one of the largest expense line items in a healthcare organization's budget, and out-of-control staffing costs can result in missed financial goals or worse. This article discusses several ways that financial leaders can work with clinical leadership to develop a staffing strategy that is responsive both to clinical needs and the organization's financial goals.
First: Ensure that your financial reporting systems are effectively communicating actual versus budgeted results, including staffing costs, to nursing leadership. It is difficult to hold managers accountable for cost control if they do not have adequate visibility of what costs are. If you are not already doing so, schedule quarterly, or even monthly, reviews to discuss nurse staffing costs with both clinical management and financial personnel.
Second: Help your clinical leadership understand the true costs of nurse turnover. These include the costs of recruiting replacement staff, training and orienting new staff, and coping with reduced productivity while a new clinician is getting up to speed. Also, consider the burnout effect on other nurses caused by high turnover. Develop at least a rough computation of the cost per attrition event for specific departments.
Example Cost per Attrition Event and Financial Impact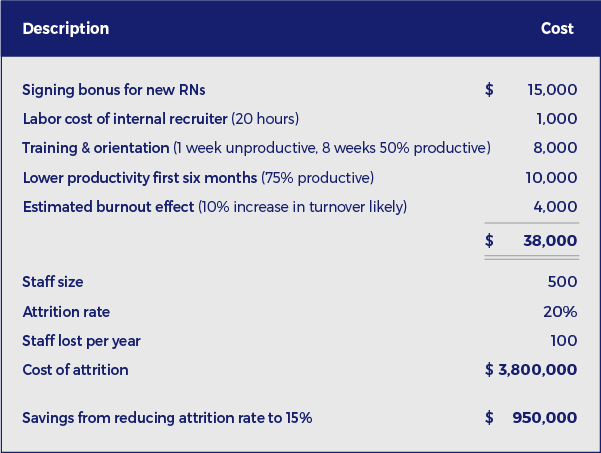 Note that I am being conservative on some of these assumptions—your actual cost may be significantly higher. A study by Twibell in 2012 put the cost per attrition event at $82,000 for a nurse.
Third: Work with clinical management to develop, monitor, and report key metrics related to your staffing. If your organization is heavily dependent on travelers or per diem staff, consider monitoring a key metric related to the incremental cost of contract staff compared to permanent staff. And challenge whether you are pushing out that key metric as broadly as you could be. Awareness of cost challenges is key to controlling them—the more eyes focused on a known problem, the better.
Fourth: Help clinical departments develop staffing strategies that address optimal staffing ratios and attrition/turnover targets, as well as the right mix of permanent versus contract employees.
Optimal Nurse Staffing Ratios
Studies show that many nurses leave their jobs because they become burned out or feel under-appreciated. When one nurse leaves, there is a negative effect as other nurses must absorb additional responsibilities, at least temporarily. Even a short-term vacancy adds to stress and burnout. So, it's important to calculate and consistently achieve your organization's optimal nurse staffing ratios.
Historically, these targets have been based on patient volume or percent of total staff. But this approach does not account for recent trends in the healthcare industry. It's important to ask: Does your nurse staffing consider patient acuity? Is it flexible enough to help you transition from a facility that treats illness to one that supports lifetime health and wellness? Does your strategy consider compensation based on patient satisfaction scores and outcomes?
Setting nurse turnover targets is extremely important, as is understanding the groups of nurses that are most likely to affect attrition:
New Hires. These nurses are at greatest risk for turnover. More than half (50.6%) of RNs who left their organizations did so in the first two years of employment. The organization's initial investment in orientation, training and on-boarding is lost when this occurs.
Newly Licensed RNs. About half of these employees also will leave within the first two years of employment. Although experienced nurses are a safer investment, they are more difficult to find, recruit and hire.
Travel and Per Diem Nurses. If your organization is using travel or per diem nurses to fill gaps, you may be paying excessive travel expenses and agency fees.
Supplementing your staff with internationally educated nurses can help address all of these issues.
Some international nursing agencies, such as Avant, offer multi-year contracts to help foster longevity. At the end of their agreement, most Avant nurses are hired by the healthcare facility where they've worked.
Leveraging the resources of an international recruiting firm can help you hire experienced nurses ready to integrate into your organization. Avant nurses have 12 or more years of nursing experience.
Using internationally recruited nurses can significantly lower travel and per diem costs. And using long-term international nurses helps protect your labor budget from continually rising travel rates.
The next few years will bring a variety of challenges to the healthcare industry, not the least of which will be a shortage of experienced nurses. Every strategically-minded CFO should be thinking about how to take a proactive role in developing their organization's plan to deal with this shortage in the context of their clinical and financial goals. If you're interested in discussing these topics further, or are interested in how Avant Healthcare Professionals can help you meet your staffing challenges, please contact me at 407-681-1304 or slloyd@avanthealthcare.com.
About Avant Healthcare Professionals
Need nurses? Avant Healthcare Professionals is the premier staffing specialist for internationally educated registered nurses, physical therapists and occupational therapists. Avant has placed thousands of international healthcare professionals across U.S. facilities to help improve the continuity of their care, fill hard-to-find specialties, and increase patient satisfaction, revenue and HCAHPS scores. Avant is a Joint Commission accredited staffing agency and founding member of the American Association of International Healthcare Recruitment (AAIHR). Avant Healthcare Professionals is a member of the Jackson Healthcare® family of companies.
---
Subscribe