Dream. Become. Inspire. Meet Lotoya, RN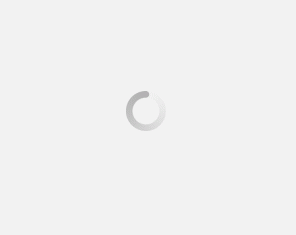 January 11, 2022
Originally from Montego Bay, Jamaica, Lotoya wanted to become a USRN to expand her nursing career. Lotoya graduated with her MSN and is living her American Dream with her family in North Dakota. Below, Lotoya shares her journey to achieving her dream.
My Journey to Becoming a USRN
I knew at an early age that I wanted to become a nurse because caring for others came naturally to me. After high school, I applied for nursing school and got accepted a year later. Nursing practice in Jamaica, in my opinion, is quite similar to that of the U.S., with a few exceptions. While some skills may differ, the principles remain the same.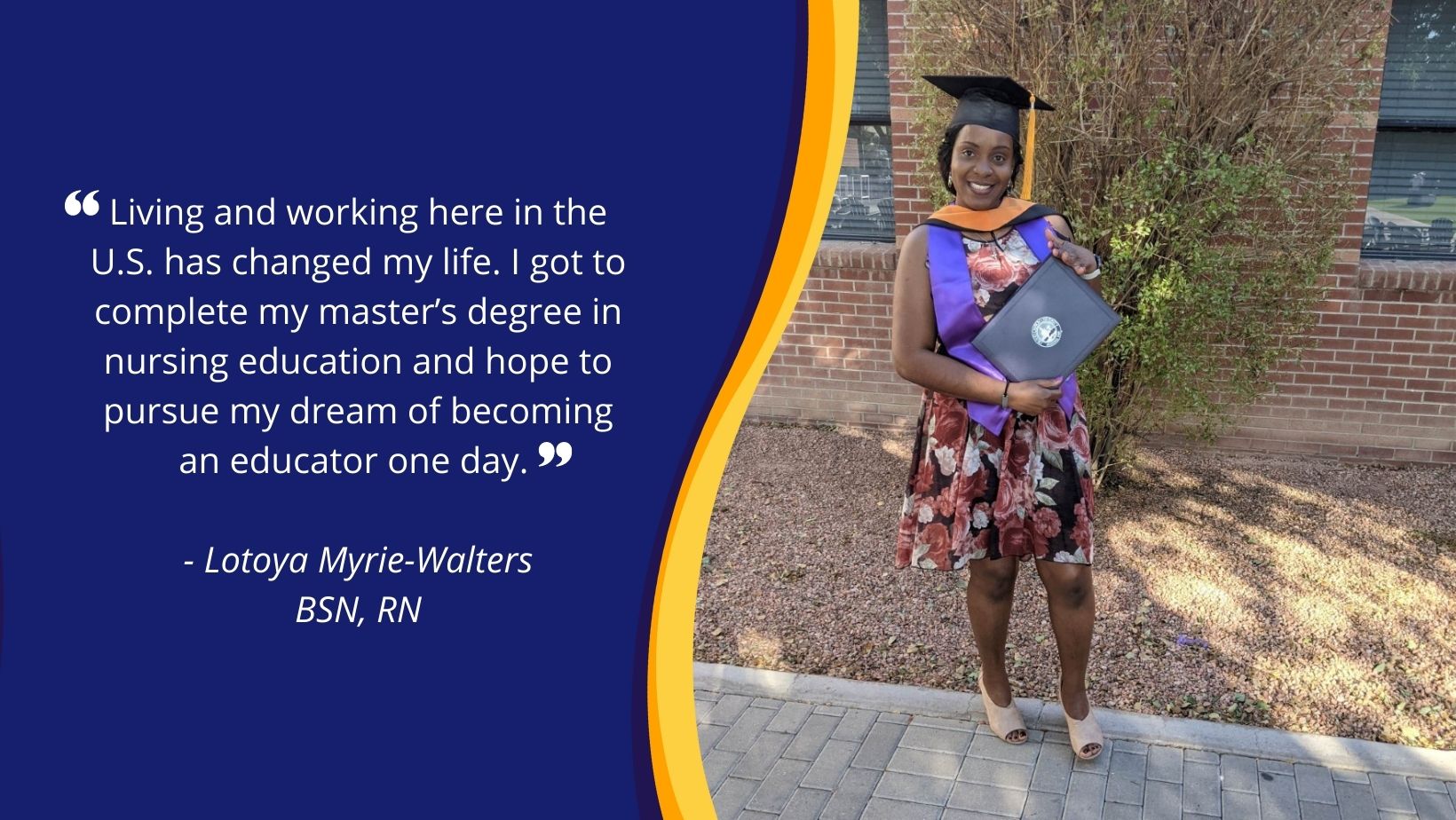 It is no secret that Jamaica lacks some essential resources, but that does not take away from the nurses' knowledge and skills regarding patient care. My life in Jamaica was pretty good, but part of me wanted to accomplish more professionally and financially. In 2016, when I finished my BSN, I dreamed of pursuing further studies and expanding my knowledge and skills as a nephrology nurse, but I felt limited in what I wanted to do and how to achieve my goal. I then realized that I had to leave my home country and the hospital I had worked for over ten years to become the nurse I wanted to be.
My USRN Process
Living and working here in the U.S. has changed my life. I got to complete my master's degree in nursing education and hope to pursue my dream of becoming an educator one day. Financially, my husband and I are making great strides, and we couldn't be happier. We believe we made the right decision to move to the U.S. and choose Avant Healthcare Professionals to take us through this journey.
Being able to graduate with my master's degree is such a huge accomplishment. Words are not enough to explain my happiness. I am the first of my siblings to pursue graduate studies, so you can imagine the joy and excitement it brought to my family. Taking my kids along in this journey meant the world to me as I want to teach them that they can accomplish anything with hard work and dedication. This is only the beginning of what I want to achieve.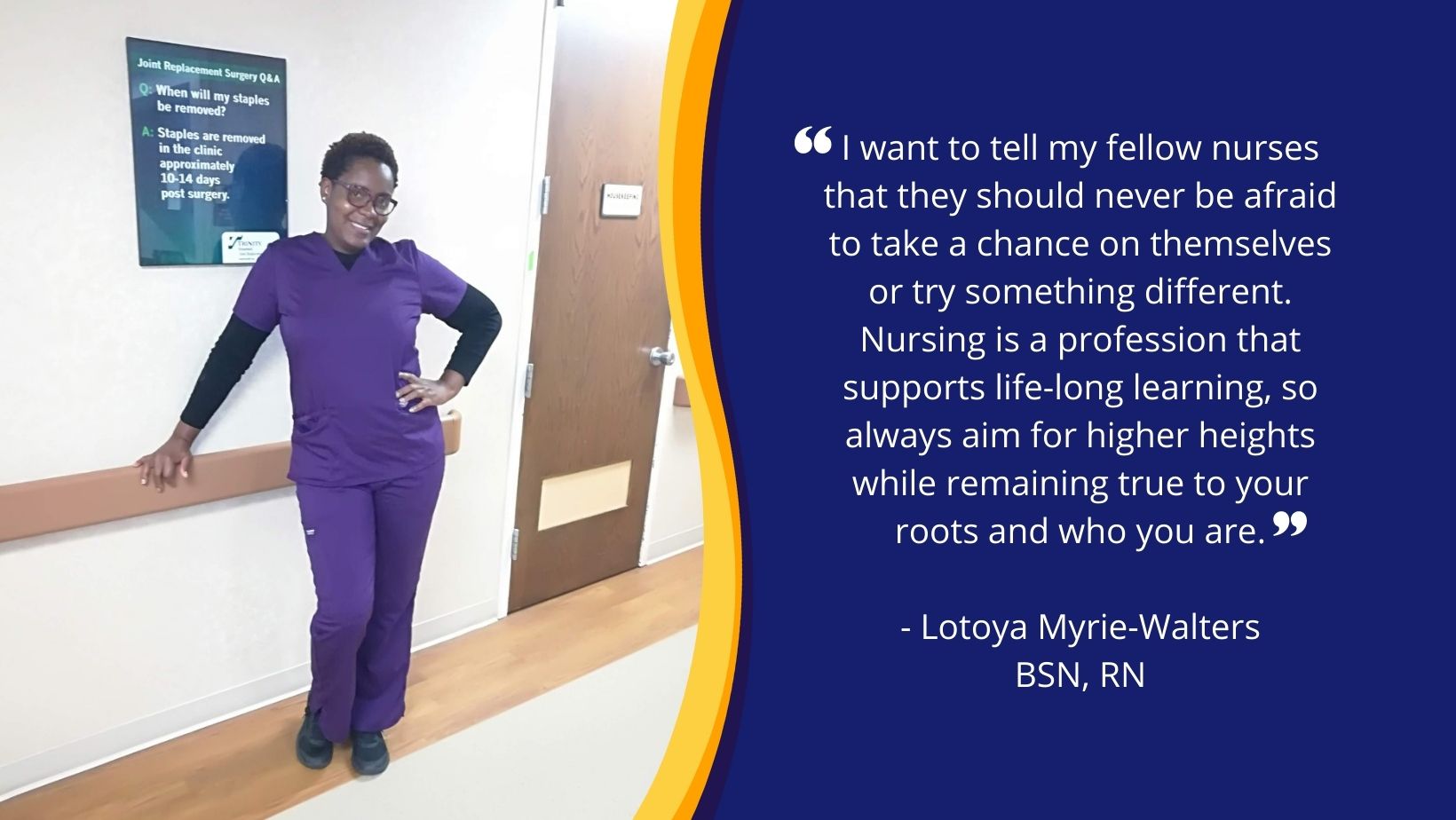 My next step is to obtain my CNN certification (Certified Nephrology Nurse) and lecture part-time at the local university here in my town of Minot, North Dakota. Dialysis has long been my passion, so I hope to work with the team here to expand the renal services offered at the hospital.
My Advice for Aspiring USRNs
I want to tell my fellow nurses that they should never be afraid to take a chance on themselves or try something different. Nursing is a profession that supports life-long learning, so always aim for higher heights while remaining true to your roots and who you are.
I want to share this piece of advice to nurses when deciding on a partner agency for their USRN dream: scrutinize the offer and assess how they will assist you with the transition process. I could not have chosen a better agency to help me become a USRN. The Avant Healthcare Professionals team supported me throughout the process, from my first application, NCLEX-RN, immigration, transitioning to the U.S., to seeing me through as I started work at my assigned facility. Avant Healthcare Professionals was there even when I graduated with my master's degree and later converted to full-time staff at my designated hospital. The thought of moving here was terrifying for me but knowing that I had a team looking after my well-being eased much of my anxiety. I have nothing but high praises for my Avant Healthcare Professionals family.
Avant Healthcare Professionals is the premier recruiting and staffing specialist for internationally educated healthcare professionals. When you join the Avant Healthcare Professionals program, you have entire teams of experts dedicated to your success in the USA! Take the first step toward your new life and a new career. Apply today to find out if you qualify to be part of this exclusive program. You could be working in the U.S. in as little as 12 months!
---
Subscribe