How COVID-19 Affected the Quality of New Nursing Graduates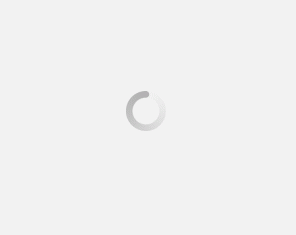 July 21, 2022
As COVID-19 continues to leave hospitals with an overflow of patients, new nursing graduates are feeling the effects of the pandemic as they start their careers. With nursing shortages across the globe, many patients have been impacted by the quality of care given. One of the most immediate impacts on nursing education was switching to remote education and suspending in-person clinical experiences to protect students from the virus.
The COVID-19 pandemic affected nursing graduates' studies, workforce capabilities, and personal lives. This article addresses how COVID-19 affected the quality of new nursing graduates through various academic, professional, and emotional routes and how healthcare organizations can support them as they transition into the workforce.
Effects of COVID-19 on Nursing Graduates
Educational Effects
As the pandemic continued, statistics showed that over 80,000 applicants were turned away from nursing schools in 2020 due to a lack of faculty members, clinical sites, budget constraints, and classroom space. A 2020 National League of Nursing (NLN) report states that 26% of newly licensed nurses leave within the first year of practice. Strong preceptor programs have decreased turnover rates; however, these programs have fallen short due to high patient admission since the pandemic.
Excessive Workload
New graduates have felt the effects of a heavy workload due to their lack of clinical training experience. This is because of the increasing demand for patient care brought on by COVID-19. The increased workload poses a risk to patients who may be treated by nurses who aren't adequately prepared. With the high nursing shortage causing limited clinical experience opportunities, nursing students are entering the workforce with minimal patient exposure. In turn, new nurses are experiencing overwhelming burnout quicker, resulting in high turnover rates.
Emotional Impact
Healthcare professionals and new nursing graduates provided excellent patient care during the pandemic. As burnout continues to be one of the leading causes of higher turnover rates, and nurses continue to receive an influx of patients daily, this has left many to rethink their place in the nursing profession. New nurses who have been overworked since the pandemic began to experience the trauma of losing hundreds of patients to the virus. Nurses' mental health was compromised, and many felt anxious and overwhelmed at work. Prioritizing the mental health of these nurses is essential to creating an environment where patients feel comfortable, despite the challenges they might face.
How To Support New Nurse Graduates
New nurses deserve to feel supported in their work environment. Establishing mentor programs within healthcare organizations creates a safe space for guidance and discussion for recent nursing graduates. Programs like these can help facilitate quality patient care and create an environment that makes healthcare staff feel appreciated. The pressures of the nursing profession can be an overwhelming transition for new nurses, especially after the pandemic.
Encouragement is a healthy response to treating nurses feeling overwhelmed and burnt out as they begin their transition to the workforce. Connecting with them and sharing personal experiences is a great way to encourage and remind them how rewarding it is to be a nurse, even during the most challenging times.
With all the burden healthcare organizations have endured the past two years, adding qualified nursing professionals through a staffing agency can help. Considering a nurse staffing agency that places experienced nurses is a great way to support your nursing staff. At Avant Healthcare Professionals, we work with internationally trained registered nurses with different skill sets to bridge the experience gap at hospitals nationwide.
Statistics of New Nursing Graduates
Avant Healthcare Professionals' 2022 Trends in Nurse Staffing Study worked with over 100 healthcare decision-makers to collect data on the most recent trends in nurse staffing. According to the study, 87% of respondents rely on new graduates to fill their current RN job openings, while 69% look to staffing agencies. Although most prefer to hire recent graduates, nursing schools lack the resources for students to obtain a proper education. Many states, such as Indiana, have adapted to the COVID-19 regulations and have replaced some clinical hours with simulation hours. These simulation hours include using mannequins to mimic i-person clinical training and utilizing other technologies such as virtual reality to immerse students in a computer-generated environment where they can best practice their skills and receive feedback.
According to a June 2022 survey by Incredible Health, 79% of new nurses reported feeling overloaded or overwhelmed during their onboarding process, and 55% of recent nurse graduates already plan to leave the field before retirement. Many nurses aren't happy with their current positions and are constantly stressed due to the amount of work given. With new nurse graduates planning to leave before retirement, this can cause the nursing shortage to increase at a quicker rate.
The Bottom Line
The COVID-19 pandemic burdened healthcare organizations and their nursing staff, leaving them with an overflow of patients and an increased nursing shortage. This also created a difficult space for new nurse graduates to perform their jobs adequately. The suspension of in-person clinical experiences and switching to remote education left many new nurse graduates with a lack of practice.
As the pandemic affected new graduates' emotional state and educational experience, healthcare organizations are finding new ways to support them. The transition from student to practitioner can be difficult but having a mentor that can guide and encourage them during the most challenging times can improve their quality of care.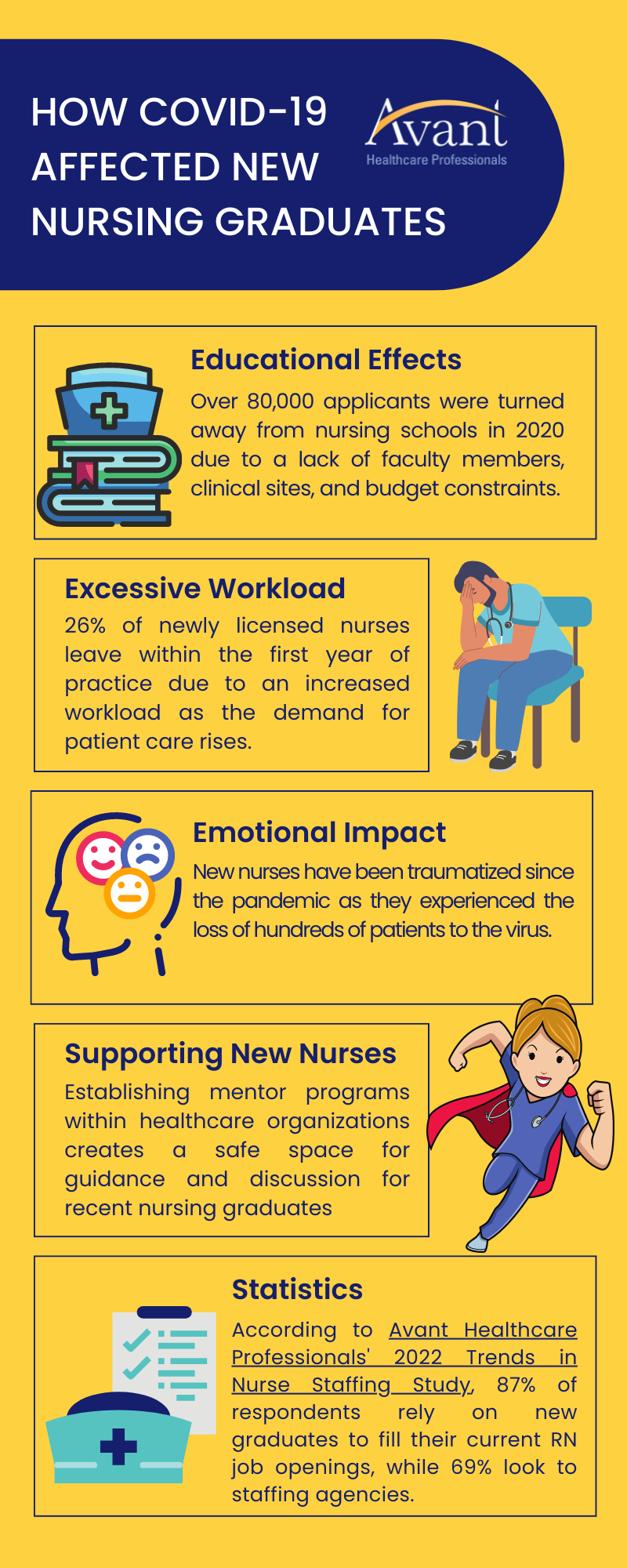 About Avant Healthcare Professionals
Need nurses? Avant Healthcare Professionals is the premier staffing specialist for internationally educated registered nurses, physical therapists and occupational therapists. Avant has placed thousands of international healthcare professionals across U.S. facilities to help improve the continuity of their care, fill hard-to-find specialties, and increase patient satisfaction, revenue and HCAHPS scores. Avant is a Joint Commission accredited staffing agency and founding member of the American Association of International Healthcare Recruitment (AAIHR). Avant Healthcare Professionals is a member of the Jackson Healthcare® family of companies.
---
Subscribe