Managing Nurse Staffing Costs Post-COVID-19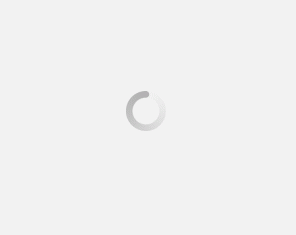 June 17, 2020
The initial outbreak of COVID-19 in early 2020 posed an enormous strain on the U.S. healthcare system, putting some hospitals on the brink of closure. Hospital leaders not only had to focus on boosting staff morale during unprecedented times but also to keep their facility from facing financial ruin. In this environment, it's critical for hospitals to pursue innovative solutions to keep costs down and prioritize increasing contingency spend.
As the rate of infection is decreasing for the time being and elective procedures resume, it's an optimal time for hospital leadership to take an active role and strategize options to manage nurse staffing costs best. Below are factors to consider and tactics that may help organization leaders best allocate funds.
The True Cost of Nurse Turnover
Nurse turnover is a recurring issue for healthcare providers, especially with nurses at the bedside. It is estimated that most Gen Z and millennial nurses leave their facility within the first two years. While high turnover rates can negatively impact the well-being of both nurses and patients, it can ultimately affect the organization's bottom line.
The costs associated with hiring a new nurse includes any recruitment fees, training and orienting new staff, and coping with a decreased productivity in the first six months. Consider developing a table to calculate the cost per attrition for your units.
Example Cost per Attrition Event and Financial Impact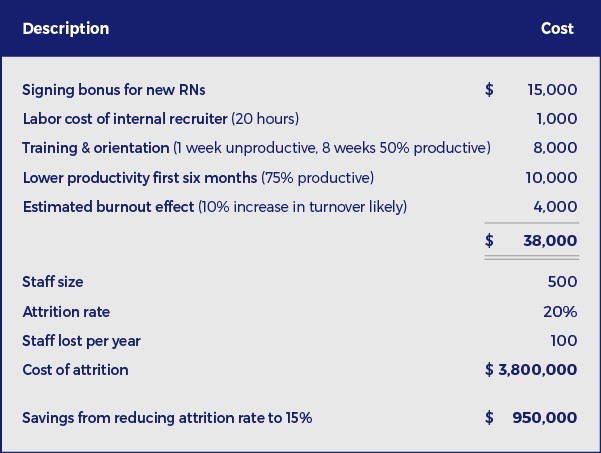 While the above numbers are based on assumption, your actual cost may be significantly higher. A study by American Nurse in 2012 put the cost per attrition event at $82,000 for a new graduate nurse.
Finding strategies to improve retention rates can help save the organization money in the long run. Nurses who have been battling on the frontlines of the coronavirus pandemic have faced immense pressure and anxiety, and with fears of nurses quitting after the initial outbreak, nurses are more susceptible than ever to feel the effects of burnout. Focus on mitigating potential turnover in your units by exploring retention strategies.
The Importance of Adequate Staffing for Cost-Effectiveness
Decreasing the number of nurses on staff might seem logical when revenues start falling, but studies have shown that it might raise expenses in the long-run. According to research, there are links between staffing and length of stay (LOS), complications, readmissions, patient satisfaction, nurse satisfaction, patient mortality, and adverse effects. These variables, known as "soft costs," can add up over time and cause financial implications to the hospital's bottom line.
A study by the American Nurses Association made a business case that increased nurse staffing levels in hospitals can lead to lower costs and increased performance. In its findings, increased nurse staffing demonstrated "in many cases to be a net cost-beneficial means to improve selected aspects of quality of care and decrease the length of time patients spend in acute care hospitals."
Nurse leaders should not focus as much on the staffing ratio but ensuring they are weighing their soft costs that are associated with the number of nurses on staff. Leaders should aim for investing in their team and hiring the right amount of nurses with the right competencies and experience.
It's worth noting that the ANA estimates that by 2022, there will be more nurse jobs available than any other profession. With the demand for registered nurses increasing in the next few years, hospitals may struggle to find qualified, experienced nurses. Healthcare leaders should start investing in creative solutions to nurse staffing to set their facilities up for long-term financial success.
The Types of Nurse Placements for Your Units
Understand what types of nurses you currently have on staff and if there are areas to reduce staffing expenses. By taking inventory of your current placements, you can best estimate the types of nurses that are most likely to affect attrition. Below are standard nurse staffing placements.
New Hires
These nurses are at the highest risk for turnover. More than half (50.6%) of RNs who left their organizations did so in the first two years of employment. The organization's initial investment in orientation, training, and on-boarding is lost when this occurs.
Newly-Licensed RNs
About half of these employees also will leave within the first two years of employment. Although experienced nurses are a safer investment, they are more difficult to find, recruit, and hire.
Travel and Per Diem Nurses
If your organization is using travel or per diem nurses to fill gaps, you may be paying excessive travel expenses and agency fees.
Internationally-Experienced Nurses
International nurses can help address recurring issues that hospital leaders face and can be a cost-effective way to augment staff. Foreign-educated nurses are recruited through agencies like Avant Healthcare Professionals to work in U.S. hospitals. They work on a contract (for the agency) at the client's facility until they convert to the hospital's full-time staff. Avant offers a multi-year agreement to help foster longevity, with approximately 90 percent of nurses hired by their healthcare facility at the end of the contract.
Leveraging the resources of an international recruiting firm can help you hire experienced nurses ready to integrate into your organization. Working with international nurses can also be significantly lower than travel and per diem fees. Using long-term international nurses can help protect your organization's labor budget from the continually rising travel rates, which have nearly doubled as a result of COVID-19.
For a more in-depth examination of placements, and factors to consider, visit our "Choosing a Nurse Staffing Agency in 2020" guide.
The next few years will bring a variety of challenges to the healthcare industry, not the least of which will be a shortage of experienced nurses. Every strategically-minded healthcare leader should be thinking about how to take a proactive role in developing their organization's plan to deal with this shortage in the context of their clinical and financial goals.

About Avant Healthcare Professionals
Need nurses? Avant Healthcare Professionals is the premier staffing specialist for internationally educated registered nurses, physical therapists and occupational therapists. Avant has placed thousands of international healthcare professionals across U.S. facilities to help improve the continuity of their care, fill hard-to-find specialties, and increase patient satisfaction, revenue and HCAHPS scores. Avant is a Joint Commission accredited staffing agency and founding member of the American Association of International Healthcare Recruitment (AAIHR). Avant Healthcare Professionals is a member of the Jackson Healthcare® family of companies.
---
Subscribe