Dream. Become. Inspire. Meet George, RN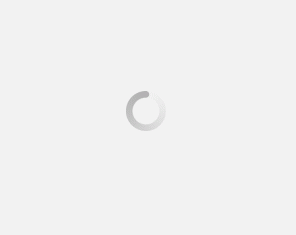 August 24, 2021
Meet George, a Registered Nurse with Avant Healthcare Professionals who received the Kudos of the Month Award from his facility. Below, George shares his journey to becoming a USRN and advice he's learned along the way.
My Journey to Becoming a USRN
I am from Enugu State, Southeast of Nigeria. I worked in one of the best hospitals in my state back home. I had a fulfilled life, but I also enjoyed traveling to places and learning more about cultural dynamism.
It has always been my dream to practice nursing in the United States - a country blessed with good cultural integration, advanced technology, and a love for humanity. I am grateful to God and Avant Healthcare Professionals for making my dream coming true. They made it possible not just for me but also for my family members to be with me in the U.S.
My passion for the nursing profession is immeasurable! I love caring for people, and I love watching them recover from their illnesses. I decided to become a USRN to gain more knowledge, advance in the nursing profession, and collaborate with other healthcare professionals to provide the best patient care.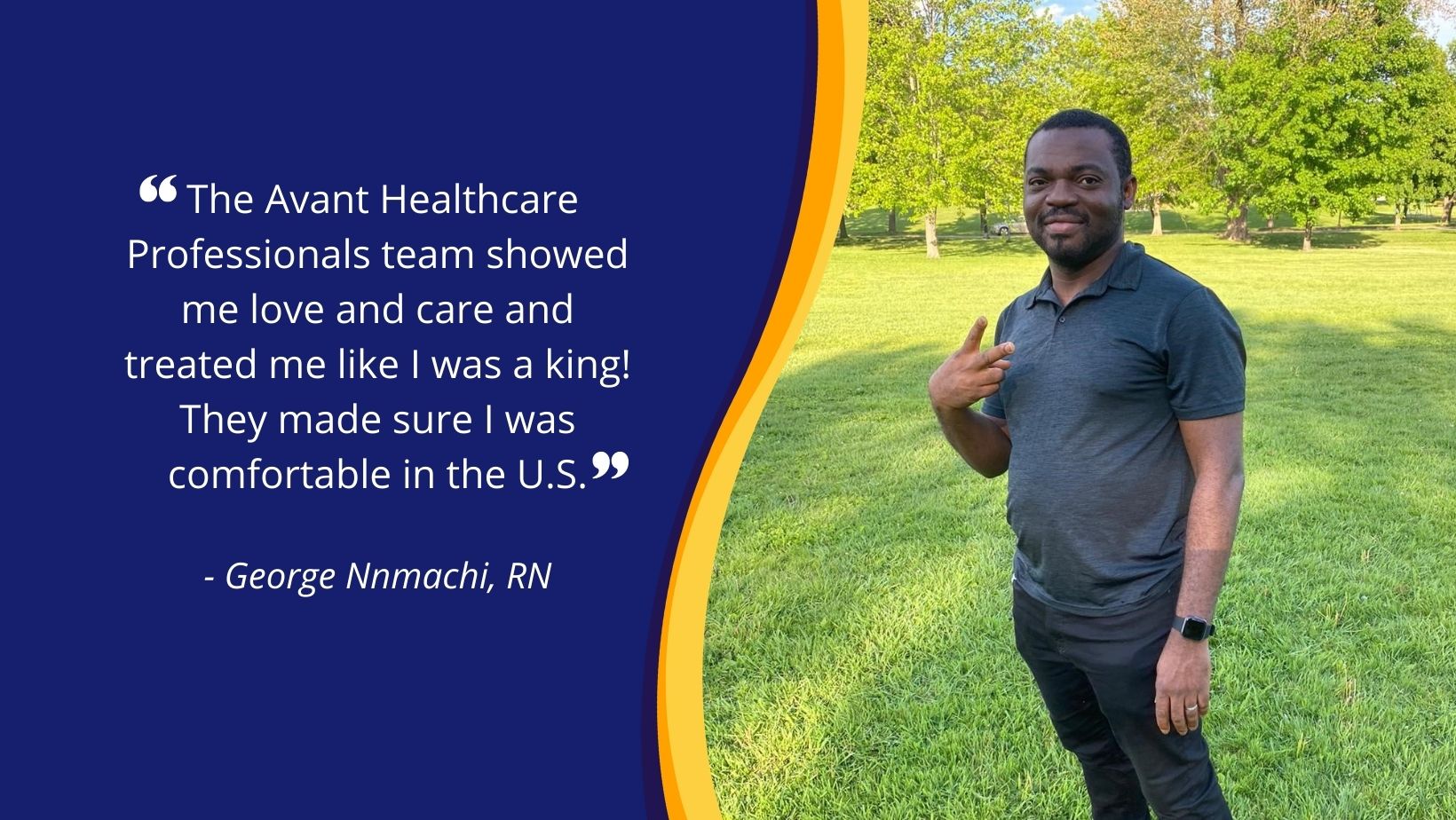 My USRN Process
I chose Avant Healthcare Professionals because of its flexibility, reliability, and consistency. Avant Healthcare Professionals is an organization that has helped so many nurses around the world achieve their American dreams. Avant Healthcare Professionals is internationally friendly and accommodating, regardless of race, religion, sexual orientation, and cultural background.
My experience with Avant Healthcare Professionals has been good, especially during my clinical and cultural transition program in Orlando, Florida. The Avant Healthcare Professionals team showed me love and care and treated me like I was a king! They also made sure I was comfortable in the U.S.
Living and working in the U.S. comes with considerable challenges like culture shock, different patient populations, interaction amongst colleagues, and interprofessional collaboration. Even the neighborhood is different. I came from Nigeria, where we interact freely with one another; no one cares about spaces and boundaries, which is our culture. I lived the communal life for years until I came to live and work in the U.S.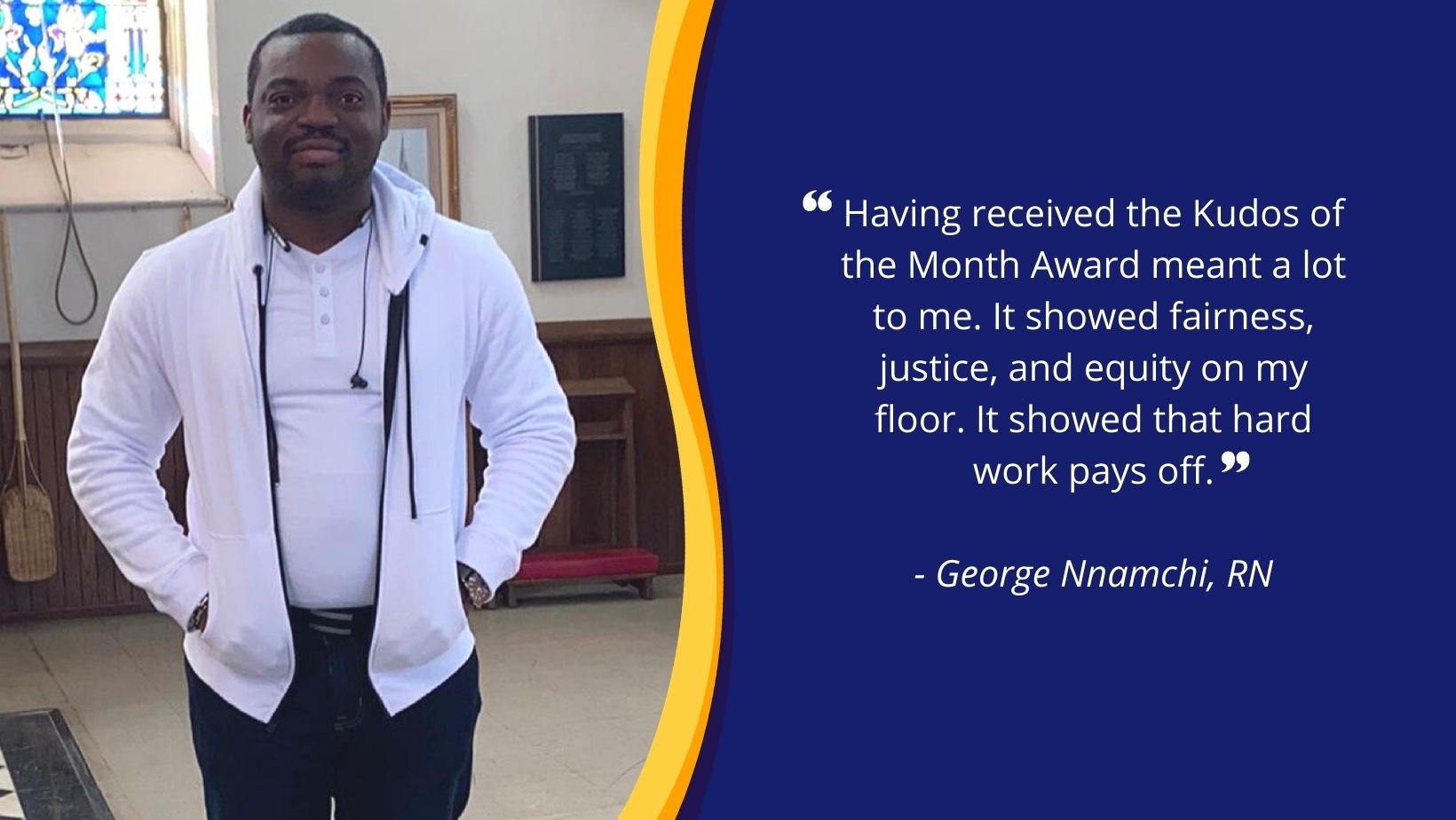 I had to learn the culture here to fit into society. Learning how to communicate with clients and staff was also challenging for me. I have been here for more than two years, and I am very comfortable with the environment and the people around me. Avant Healthcare Professionals and my team at the hospital helped me overcome these vast challenges and made sure I am delighted.
Having received the Kudos of the Month Award meant a lot to me. It showed fairness, justice, and equity on my floor. It showed that hard work pays off. My hospital recognized hard work, and they were not biased in their judgment. The award made me realize that people were watching and were acknowledging how well we managed our patients. I will continue to care for the patients and work with my team because care is a collaborative effort.
My other dream is to practice nursing to the highest level of the profession; right now, I am completing a master's degree program in mental health and psychiatry nursing. I aim to become a doctor in nursing practice. I want to contribute by taking my nursing profession to a greater height and providing excellent care to the patient through advancement in education.
My Advice for Aspiring USRNs
A few things I'd like to share with my colleagues would be:
There is no crown without the cross. Hard work pays off in the end.
There is always light at the end of the tunnel.
Keep working hard and keep believing in yourself!
Run away from harmful and destructive energies because there are people out there who will try to talk you down and want to influence you negatively. The job is not easy, but it comes with a huge blessing.
Avant Healthcare Professionals is the premier recruiting and staffing specialist for internationally educated healthcare professionals. When you join the Avant Healthcare Professionals program, you have entire teams of experts dedicated to your success in the USA! Take the first step toward your new life and a new career. Apply today to find out if you qualify to be part of this exclusive program. You could be working in the U.S. in as little as 12 months!
---
Subscribe