Where Are They Now? Patience Ikemba, BSN-RN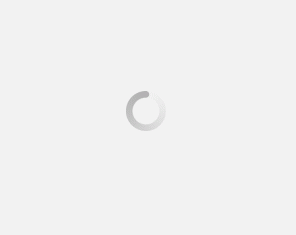 November 15, 2022
From Nigeria to Maine, Patience moved to the United States to grow personally and professionally, and provide more opportunities for her children to succeed in life. Today, Patience owns a home, and her children are in college, and she's pursuing her MSN.
Why did you join Avant?
I was working in a tertiary Federal Government hospital in my country. I was comfortable but wanted to grow personally and professionally. I wanted to provide more opportunities to my children and better leverage for more success in life. I know the horizon is broader and filled with better possibilities than where I was.
I have a friend working with a direct hire agency that referred me to Avant Healthcare Professionals. I love Avant because they sponsor and prepare registered nurses to take the NCLEX. The sponsorship program made it easier for me to concentrate on reading and preparing for exams while Avant took care of the licensure and immigration processes.
How was your Avant experience?
My Avant experience has been incredible, and I am a proud Avant RN. I prepared for NCLEX with only the NCLEX preparatory program from Avant and passed the exam on my first time. My favorite part of the program is the clinical and cultural transition program on arrival to U. S. This program sets Avant nurses apart and prepares one for success from the moment they start. I learned so many things during the clinical and cultural transition that have been of immeasurable value to me as a person, my family, and my professional growth. Also, Avant gives us a transition specialist that helps nurses transition to the new community where they are placed to work. Having the transition specialist with us for the first few days was extremely supportive. They assisted us with finalizing the apartment rental, driving us to a hospital meet and greet, buying home essentials, and a car, and reduced our stress of being in a foreign community and not knowing our whereabouts. Being able to buy a brand-new car for someone new to the U. S. without a credit history was made possible by Avant. I had a good relationship and support from my HR specialists and Avant nurse managers.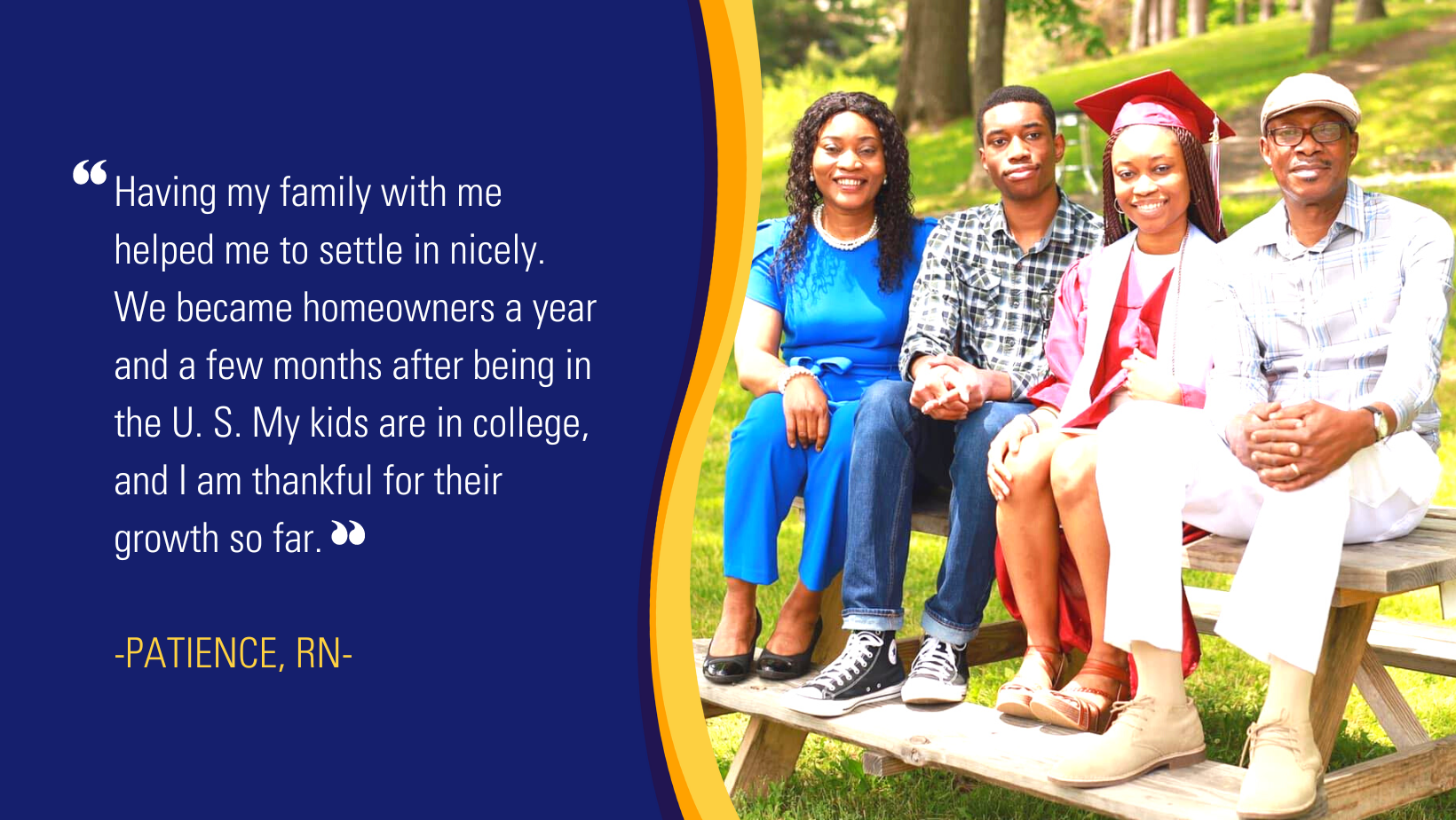 Where were you placed and why did you convert to the hospital's full-time staff?
I was placed at a hospital facility in Maine. I first worked in the Respiratory/Oncology unit of the hospital and then the Neuro/Orthopedics. I developed a passion for mental health nursing during this period and converted to a psychiatric center. I am still with my original facility and still working in the unit I converted to full-time. I enrolled for my BSN about six months after I started working in the U. S. and enrolled for MSN a month after I graduated with my BSN. I am currently studying to become a Psychiatric Mental Health Nurse Practitioner (PMHNP) and am at the didactic/practicum stage. I am also working full-time as a psychiatric RN.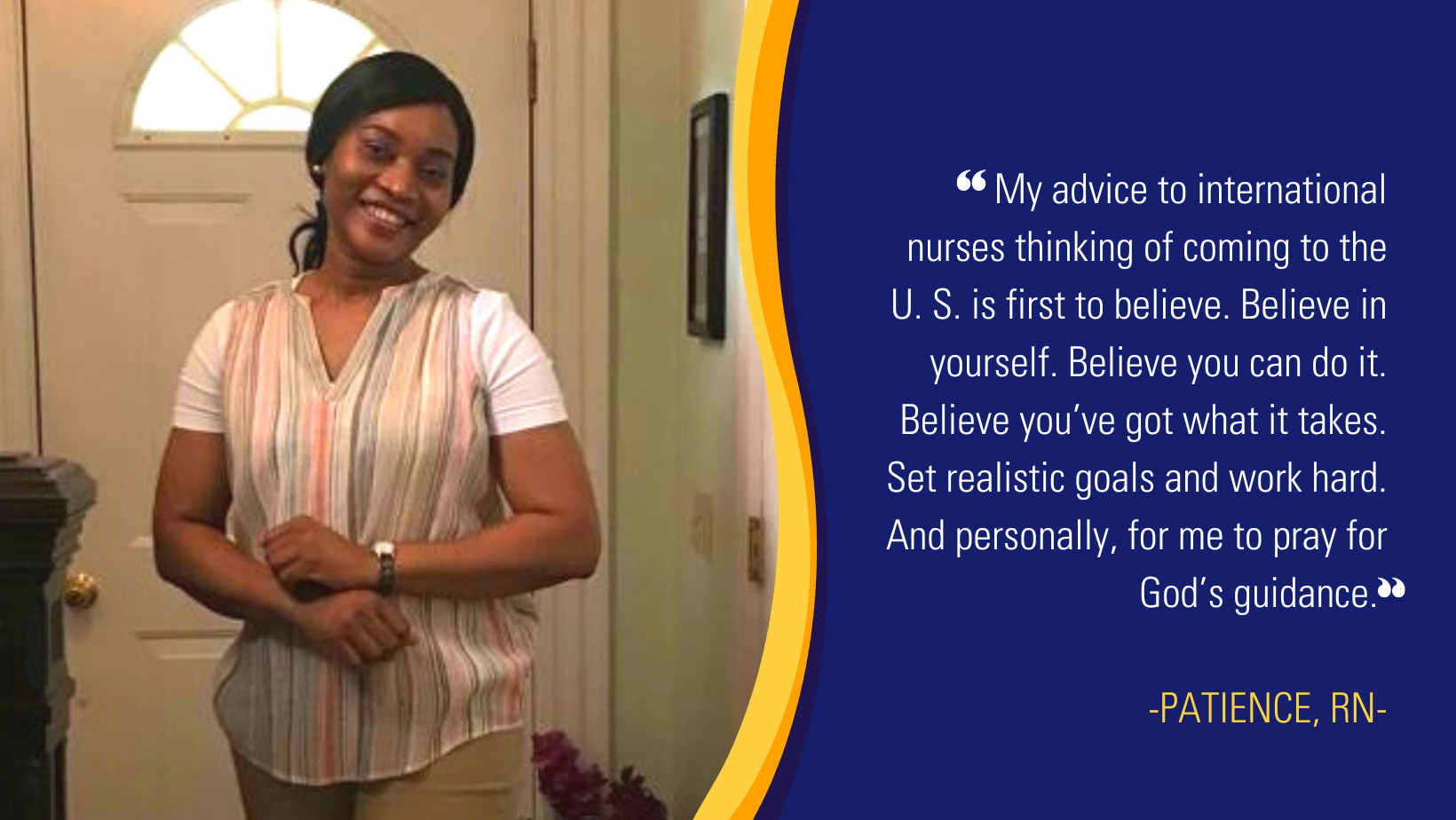 How have you integrated with your community?
Having my family with me helped me to settle in nicely. We became homeowners a year and a few months after being in the U. S. My kids are in college, and I am thankful for their growth so far. My husband sang a heartwarming song about our community on YouTube; the song epitomizes potential and not giving up no matter the circumstances.
Any advice to other nurses thinking about coming to the U.S. to pursue their American dream?
My advice to international nurses thinking of coming to the U. S. is first to believe. Believe in yourself. Believe you can do it. Believe you've got what it takes. Set realistic goals and work hard. And personally, for me to pray for God's guidance. There will be many hurdles in the way, and at a point, you may be doubting if you can succeed, especially in the first few months here, but continue to improve yourself. Use your support system, and don't be afraid to ask questions. With time and experience, you will flourish and soar like an eagle.
---
Subscribe